From our Founder | Cypress Semiconductor
| | |
| --- | --- |
| 日付 | タイトル |
| 2015 年 9 月 22 日 | Cypress Progress Report:Strong Traction with Cross-Selling Initiatives |
| 2015 年 4 月 01 日 | New Cypress:A Commitment to High-Performance Embedded Systems |
| 2014 年 1 月 07 日 | T. J. Rodgers - Stanford Radio Interview |
| 2013 年 7 月 19 日 | Cypress CEO:Working With Tesla |
| 2013 年 1 月 08 日 | T.J. Rodgers completes world's first wireless wine fermentation network for UC Davis winery |
| 2012 年 9 月 05 日 | Second Harvest Food Bank opens new facility |
| 2012 年 6 月 21 日 | People Are the Economy |
| 2012 年 4 月 27 日 | CY CEO Talks Earnings Results |
| 2011 年 6 月 20 日 | Building donated to Second Harvest Food Bank |
| 2011 年 2 月 03 日 | Executive Decision:サイプレス セミコンダクタ |
| 2010 年 8 月 24 日 | New, Subtle Signs Of Strength? |
| 2008 年 9 月 19 日 | Cypress Goes Back to the Future With Programmable Chips |
| 2008 年 8 月 05 日 | Electronic Business Interview:T.J. Rodgers:Programmability, Politics and Profitability |
| 2008 年 6 月 30 日 | Reuters interview:Cypress CEO sees big gains in programmable chips |
| 2008 年 3 月 06 日 | CNET Interview:Cypress' T.J. Rodgers on solar, politics, and capitalism |
| 2008 年 3 月 04 日 | Forbes Magazine Interview:Silicon Valley Can't Be Beat |
| 2007 年 12 月 03 日 | BusinessWeek Interview:T.J. Rodgers' Startup Strategy |
| 2007 年 6 月 27 日 | EDN Magazine Interview:2007 Movers and Shakers |
| 2007 年 6 月 22 日 | Interview with The American:Blue Skies, High Anxiety |
| 2007 年 6 月 01 日 | Business 2.0 Interview:Ripping up the rules of management |
| 2006 年 7 月 18 日 | CNET Newsmaker:Cypress CEO:Time to take a different tack on energy |
| 2005 年 11 月 11 日 | LA Times Interview:This Chief Executive Is Blunt With a Capital B |
| 2005 年 11 月 11 日 | Reason Magazine Interview:Rethinking the Social Responsibility of Business |
| 2005 年 1 月 01 日 | T.J. Rodgers in Chief Executive Magazine |
| 2003 年 4 月 28 日 | Interview with HR.com, part four:T.J. Rodgers on Perpetual Entrepeneurship |
| 2003 年 4 月 21 日 | Interview with HR.com, part three:T.J. Rodgers on Capital Allocation |
| 2003 年 4 月 18 日 | Fox News:T.J. Rodgers' interview with Brenda Buttner, April 18, 2003 |
| 2003 年 4 月 17 日 | Interview with HR.com, part two:T.J. Rodgers on Compensation and Goal Setting |
| 2003 年 4 月 14 日 | Interview with HR.com:T.J. Rodgers' 20 years of No Excuses Management |
| 2003 年 1 月 30 日 | Fox News:T.J. Rodgers in the State of the Union Reaction CEO Roundtable |
| 2001 年 9 月 13 日 | Fox News:Cypress CEO T.J. Rodgers talks with Fox News |
| 2000 年 9 月 01 日 | Corporate Board Member Magazine:Inside the Board at Cypress Semiconductor, Spring 2000 |
| 1999 年 9 月 09 日 | Investor's Business Daily:On High Tech and Gov't |
| 1991 年 12 月 09 日 | T.J. Rodgers in BusinessWeek:The Bad Boy of Silicon Valley |
| 1990 年 12 月 01 日 | Upside Magazine:T.J. Rodgers in an exclusive interview |
| 1984 年 2 月 01 日 | INC Magazine article:The Third Wave; U.S. entrepreneurs are filling new niches in the semiconductor industry |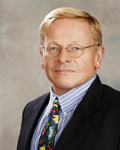 T.J. Rodgers founded Cypress in 1982 and took it public in 1986.He is a former chairman of the Semiconductor Industry Association (SIA) and SunPower Corp. (solar energy systems) and currently sits on the boards of directors of high-technology companies, including Agiga Tech (nvRAMs), and Bloom Energy (fuel cells).
彼は、ダートマスではスローンスカラーでした。 1970 年に次席で卒業し、物理学と化学の学位を取得し、年度における物理学と化学において最優秀学生としてタウンゼンド賞を受賞しました。He was a Rufus Choate scholar between 1966-1970, and was awarded the Francis L. Town Scientific Prize (1st Prize) for the 1967-68 school year.He also achieved Phi Beta Kappa distinction in 1969, and earned the Haseltine Chemistry-Physics prize at graduation.その後、ヘルツ財団特別研究員としてスタンフォード大学に進み、電気工学の修士号(1973 年)と博士号(1975 年)を取得。スタンフォード大学では、VMOS テクノロジを発明、開発、特許を取得し、アメリカン マイクロシステムズ インク(AMI)に売却して現金と特許使用料を得ました。1975~1980 年、AMI 社で MOS メモリ設計グループを率い、その後 1982 年までアドバンスト マイクロ デバイセズ(AMD)で SRAM 製品グループを統括しています。
Dr. Rodgers' 14 U.S. patents include:US7045387 - Method of performing back-end manufacturing of an integrated circuit (2006); US6903002 - Low-k dielectric layer with air gaps (2005); US6847218 - Probe card with an adapter layer for testing integrated circuits (2005); US6835616 - Method of forming a floating metal structure in an integrated circuit (2004); US6730545 - Method of performing back-end manufacturing of an integrated circuit device (2004); US6185126B1 - Self-initializing RAM-based programmable device (2001); US6131140 - Integrated cache memory with system control logic and adaptation of RAM bus to a cache pinout (2000); US5977638 - Edge metal for interconnect layers (1999); US5835401- DRAM with hidden refresh (1998); US4764248 - Rapid thermal nitridized oxide locos process (1988); US4222063 - VMOS Floating gate memory with breakdown voltage lowering region (1980); US4222062 - VMOS Floating gate memory device (1980); US3975221 - Low capacitance V groove MOS NOR gate and method of manufacture (1976); US3924265 - Low capacitance V groove MOS NOR gate and method of manufacture (1975) and US3878552 - Bipolar Integrated Circuit and Method (1975).
Rodgers was the founding CEO of Cypress in 1982 and has since built it into an international supplier of high-performance, mixed-signal, programmable solutions with nearly 3,600 employees.Called "a quintessential entrepreneurial company" by The Wall Street Journal, Cypress and its management team have received many awards for excellence in financial management.These include an Encore Award from the Stanford University Business School as entrepreneurial company of the year in 1988; an Entrepreneur of the Year award from the global consulting company, Ernst & Young, in 1991; three Bronze Awards and two Silver Awards from The Wall Street Transcript for outstanding management; and a Kachina Award from market-research company In-Stat Inc. for excellence in financial management.In 2005, Cypress was named one of the "100 Best Corporate Citizens" in the U.S. by Business Ethics magazine.
In its October 2001 issue, Upside Magazine cited Rodgers as one of the "100 People Who Changed Our World."Financial World magazine named Rodgers CEO of the Year in 1996.In 2002, Rodgers was named to a list of the year's "Top 100 Chief Executives" by Chief Executive magazine.In 2005, Rodgers was inducted into the Silicon Valley Engineering Council Hall of Fame, joining Silicon Valley icons Gordon Moore and Steve Wosniak.In 2006, he was honored with a Fellow Award from the International Engineering Consortium.In 2011, Rodgers received a "Visionary Award" from the SVForum—a Silicon Valley technology leadership organization—in recognition of his role driving global innovation.Past award winners include Bill Gates, and Gordon Moore.
米議会に証人として 5 回の出席経験があります。A proponent of free markets, he twice advocated the elimination of corporate subsidies (including subsidies for his own company) in testimony before the House Committee Ruling on Science, Space, and Technology, presenting to the committee in 1993 and 1991.Rodgers again condemned corporate subsidies in 1997 at hearings by a subcommittee of the Senate Committee on Governmental Affairs.In a similar vein, in 1990, he argued against antitrust exemption for the U.S. Memories cartel in testimony before the House Judiciary Subcommittee on Economic and Commercial Law. In a presentation to the Senate Judiciary Committee in 1998, Rodgers supported a proposal to raise the ceiling on the number of electronics engineers permitted to enter the U.S. on special visas, maintaining that the influx of talent increased the competitive advantage of U.S. high-technology companies.
Rodgers' testimony—along with his contributions to a broad spectrum of national and international business and news publications—are available on the Cypress website at www.cypress.com under the "From the CEO" category.
Rodgers has been cited for his achievements in supporting the philosophy of capitalism and freedom, and for his contributions to philanthropic and other nonbusiness groups.In 2001, Rodgers received the Silicon Valley Capitalism Award for "exemplifying the virtues of capitalism and defending capitalism with ethical principles in the media."Also that year, Rodgers was presented with an Angel Award by the International Angel Investors organization for his venture-capital activities supporting the semiconductor industry, and the inaugural Entrepreneur of the Year Award from the Smith Center for Private Enterprise Studies at California State University at Hayward.He joined a short list of scholars, including Milton Friedman, in receiving an Honorary Degree in Social Sciences from the University of Guatemala for his numerous essays on the topics of capitalism and freedom.He received an Outstanding Individual Entrepreneurship Award from the U.S. Association for Small Business and Entrepreneurship in 1997, and the City of Santa Clara, California named him Entrepreneur of the Year in 1986.
Inside Cypress, Rodgers has perpetuated a spirit of entrepreneurship by launching a series of autonomous businesses that have relied on the parent company for funding in much the same way as startup companies rely on venture capital.This "federation of autonomous subsidiaries" has delivered multiple successes for Cypress and its shareholders, including Cypress Microsystems, which developed Cypress's flagship PSoC programmable system-on-chip technology, and SunPower, which was spun out of Cypress in 2008 in a $2.6 billion tax-free shareholder distribution.
Rodgers first described the tenets of his "internal startup" concept in his 1992 book "No Excuses Management" (www.amazon.com).The book also set forth Rodgers' philosophy of how to hire, manage and retain the best people; set and meet aggressive strategic and financial goals; and manage capital efficiently in a hypercompetitive marketplace.
Rodgers has been a passionate defender of shareholder rights, addressing the subject repeatedly in his speeches and writings.In 1996, Rodgers took a Catholic nun to task for suggesting that the Cypress Board of Directors lacked ethnic and gender diversity.In a far-ranging letter to the nun (http://www.cypress.com/?rID=34986), which later became the focus of a page one story in The Wall Street Journal, Rodgers argued that attempts to make corporations more "socially responsible" put shareholder money—intended to fund retirement and college tuition—at risk of being partially controlled by activist groups that have no right to usurp control of the wealth earned by others.He returned to the theme in a 1997 opinion piece for The New York Times, criticizing the Clinton administration for a proposal to mandate corporate contributions to philanthropic causes.In the article, "Holding Up the Shareholder" (http://www.cypress.com/?rID=34980), Rodgers argued that subordinating shareholder value to so-called social responsibility cheats both shareholders and society at large.
Rodgers has encouraged Cypress to play an active role in the development of alternative energy solutions, with the goal of increasing shareholder value by serving a societal need.In 2003, Cypress made its initial investment in SunPower, which later became a fully owned Cypress subsidiary.In 2007, Cypress launched internal startup Cypress Envirosystems to develop energy-efficient solutions for legacy energy control systems in existing plants and buildings, including wireless thermostats, gauge readers and steam heating system monitors.In 2010, Rodgers declared "energy independence" from the local power grid for Cypress's San Jose, Calif., headquarters, announcing a five-year plan to make it 100% independent.Self-generated renewable electricity from fuel cells and solar power currently supplies 75 percent of the energy requirements of Cypress's headquarters campus.
Cypress technology is also helping to drive innovation in one of the world's oldest businesses—winemaking.Rodgers recently donated 152 state-of-the-art fermentors—valued at $1 million—to the school of oenology and viticulture at the University of California, Davis.The fermentors monitor the temperature and sugar level of their contents using Cypress PSoC and WirelessUSB chips in a system designed by Rodgers.The UC Davis installation will comprise the wine industry's first-ever Internet-based network of radio-linked fermentors.
Outside business, Rodgers was the first Silicon Valley CEO to lead Santa Clara County's Second Harvest Food Bank Corporate Challenge event.In 2005, Rodgers chaired the event for a second time, garnering the Food Drive Chair Recognition Award.Cypress won its 20th consecutive victory in 2010 for the most pounds of food donated per employee, with a total of more than one million pounds of food, or 3,710 pounds averaged per employee.
In 2007, Rodgers received the Star Award for Extraordinary Support of the Green Scholars Program.The program is an initiative of the California Alliance of African American Educators and focuses on advancing educational opportunities for African American students pursuing careers related to math, science or technology.The alliance also recognized Rodgers as a Special Corporate Honoree for 2007.Rodgers received awards from the Healing Institute for his support of the [George Washington] Carver Scholars Program in 2000, 2001 and 2002.Between 1998-2001, he was honored with annual appreciation awards from the Westside Kickers Track Club, a team of inner-city athletes from Oakland, Calif., whose training and travel to regional and national competitions was underwritten by Cypress.The Kickers club won the USA Junior Olympic Championship in 2000.
In 1999, Rodgers' support of a team of underprivileged students from San Jose-based Broadway High School helped the group to capture the Silicon Valley Regional Championship in a national robotics competition.The competition was sponsored by the National Aeronautics and Space Administration and NASA's Ames Research facility.The Broadway team went on to win the Silicon Valley Regional Champion Award in 2000 and 2001, capturing the Lonestar Regional Champions Award in 2000; a Southern California Regional Champions Award in 2001; and second place in the National Championship in 2001.
In 2000, Rodgers set up computer facilities with Internet access for economically disadvantaged Northern California student groups, donating equipment and money to the East Palo Alto Computer Lab and the Girls Club of the Mid-Peninsula.
In 2004, Cypress inaugurated the Cypress Semiconductor Spinal Cord Rehabilitation Gymnasium at the Santa Clara Valley Medical Center in California.A year later, the company donated funds to help the medical center establish a mobile prenatal clinic.
Rodgers' public presentations include a 2002 speech criticizing accounting practices mandated by the Federal Accounting Standards Board; it was delivered to the Stanford Directors' College and published by the libertarian Cato Institute under the title "Corporate Accounting:Congress and FASB Ignore Business Realities" (see www.Cato.org).His November 1998 speech, "Why Silicon Valley Should Not Normalize Relations with Washington DC," was the keynote address at an event cosponsored by Cato and the Economist magazine.
Rodgers' speech, "Let Our Options Go!"was delivered in 1994 to a grassroots rally in Silicon Valley supporting broad-based employee-equity programs.At that time, it helped to kill FASB's attempt to force companies to expense stock options on their income statement.His 1990 speech, "The American Semiconductor Industry:Winner or Whiners?"was delivered to a meeting of the American Electronics Association in Seattle, Washington, and took his own industry to task for competitive losses to Japan during the late 1980s.Speaking to the June 1989 graduating class at Dartmouth College, Rodgers' "An Entrepreneur's View of American Competitiveness" extolled the virtues of entrepreneurial initiative.
Rodgers' personal interests include movies; cooking, especially Italian, French, and Chinese cuisine; collecting wines, notably French burgundies; and tending his three Pinot Noir vineyards, with which his mission is to produce "the best Pinot Noir in the New World."He is a member of the Board of Visitors and Fellows at the Department of Viticulture and Enology, University of California, Davis.In addition, Rodgers is an avid jogger, having logged 10-20 miles per week since 1963, when he watched then President John F. Kennedy's speech launching the President's Council on Physical Fitness.